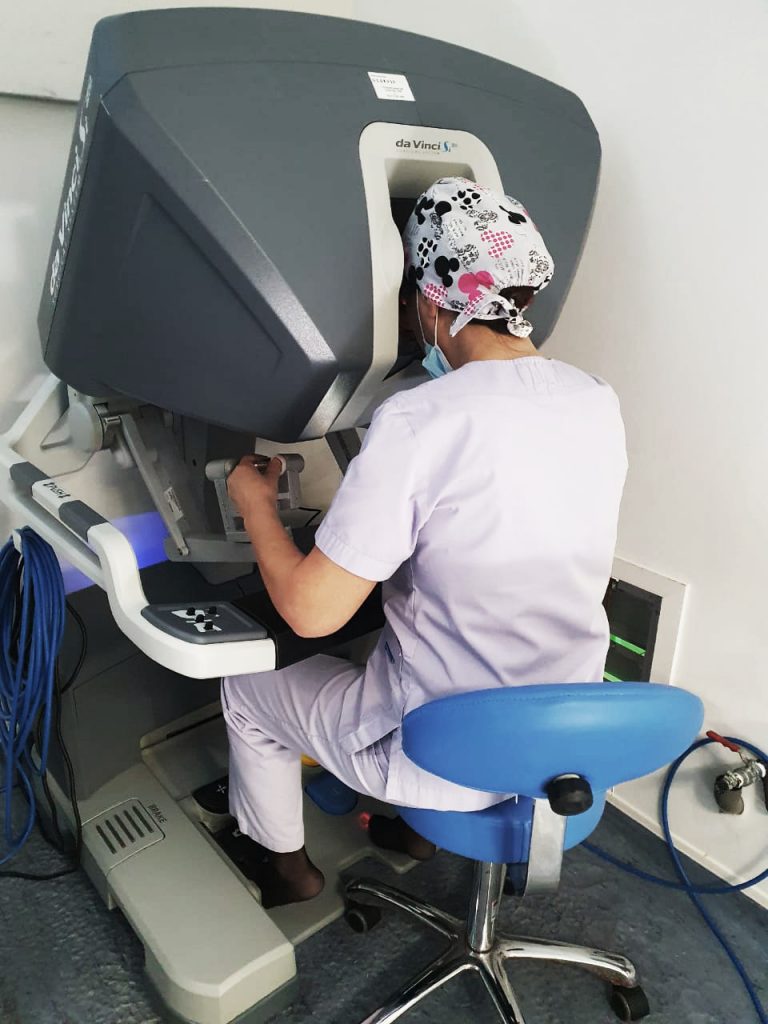 The DaVinci Robotic System
In the past, open surgery was the only surgical procedure available, and it required large incisions on the skin and abdominal wall.
Today, doctors overall prefer minimally invasive surgical procedures such as laparoscopies, or robotically-assisted laparoscopies while open surgeries are performed only in specific cases.
The DaVinci robotic surgical system offers the highest level of technological development in the field of surgery. It is named "daVinci" after Leonardo Da Vinci who was the first to design robotic machines. The DaVinci surgical system allows surgeons to perform minimally invasive surgeries via a which provides high-definition, magnified, 3DHD views of the surgical area and allows the surgeon to control a set of tiny "wristed" state-of-the-art surgical instruments. The console translates the surgeon's hand movements in real-time, with instruments bending and rotating like a human hand but with a far greater range of motion for more precision, flexibility, and control than is possible with conventional techniques.
Patient benefits in choosing Robotic surgery to treat Gynaecological conditions
Shorter hospital stay
Less pain and discomfort
Less risk of infection
Less blood loss and the need for a blood transfusion
Better aesthetic result
Faster recovery time and return to normal activities
Why surgeons prefer using Robotic Surgery
Greater range of motion and freedom to bend and rotate the wrist than
traditional surgery
Filters out/eliminates any hand tremors the surgeon may have
Fixed camera
Surgeon autonomy
Robotic-assisted gynaecologic procedures
Robotic surgery is used to treat the following gynaecological conditions:
Myectomy of large and multiple fibroids
Hysterectomy for benign disorders
Hysterectomy and Sacropexy for uterine prolapse and severe cystocele (anterior prolapse or prolapsed bladder)
Sacrocolpopexy due to vaginal stump prolapse following a hysterectomy
Hysterectomy and pelvic lymph node dissection for endometrial cancer
Hysterectomy and lymph node dissection for cervical cancer
Hysterectomy, omentectomy, appendicectomy, pelvic and paraaortic lymph node dissection for ovarian cancer up to stage 1a
Reach Us
Hippocrateon Private Hospital
10 Psaron Str., 2408, Egkomi, Nicosia, Cyprus
Open Hours
Mon, Wed, Fri: 8:00 - 20:00
Tue: 8:00 - 17:00
Thu: 8:00 - 14:00