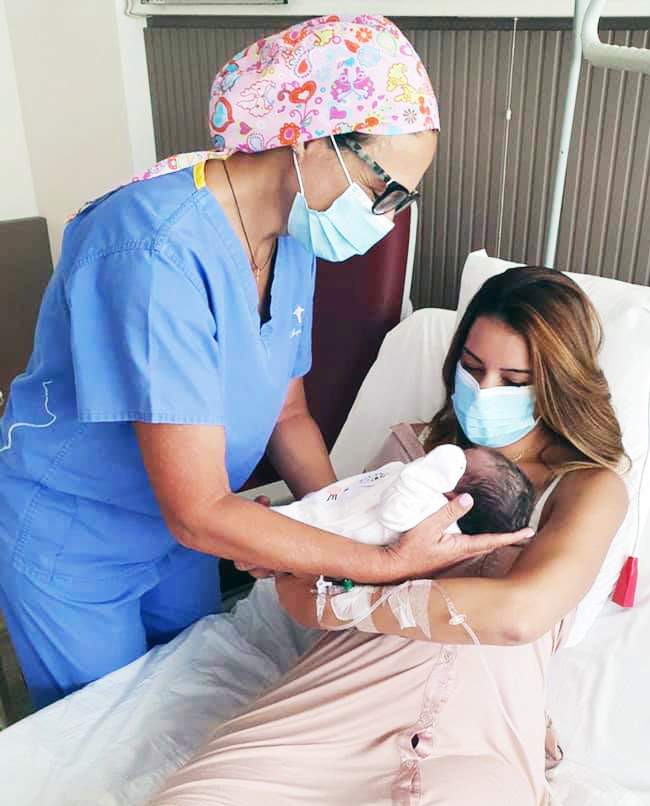 We offer a full range of obstetric services ranging from preconception counseling, to pregnancy care and genetic testing.
Preconception counseling can help you achieve optimal health before conceiving and enhance your chances of delivering a healthy baby. In addition to obstetric care during pregnancy, we also provide delivery and post-partum care.
We also offer routine checkups, such as early obstetric ultrasound during the early stages of pregnancy, diagnostic or targeted ultrasound, where necessary, as well as 3D and 4D ultrasounds and genetic testing.
6th-8th week
Diagnosis of intrauterine pregnancy
Heartbeat confirmation (as of 6+week)
Diagnosis of singleton or twin pregnancy
Discussion regarding the pregnancy plan, diet, general tips, and guidelines
9th-10th week
Maternal blood tests

(pregnancy profile)

Free b-hCG, PAPP-A

Testing for the thalassaemia trait

11th-14th week
Measurement of fetal nuchal transparency
Anatomy of the fetus – first assessment
Doppler measurement of the uterine arteries to determine any risk of preeclampsia
In combination with the test results for Free b-hCG and PAPP-A, the risk of possible chromosomal abnormalities in the fetus is determined. Women bearing high-risk fetuses are given the option for invasive prenatal testing (chorionic villus sampling, amniocentesis) or non-invasive prenatal testing (blood test) using the cell-free DNA test method. In Cyprus, this test is available as of the 10th week of pregnancy, to all expecting women, provided there is NO risk of miscarriage, regardless of the risk of chromosomal abnormalities of the fetus.
16th week
Diagnosis of the sex of the fetus
At this appointment, Dr. Kakkoura performs a more extensive assessment of the anatomy of the fetus in relation to that of the first trimester in order to identify any possibility of any obvious anatomical abnormalities that appear early.
20th-24nd week
Detailed examination and measurement of all anatomical structures of the fetus
Assessment of cervical length to assess risk for premature birth
24th week
Short obstetric visit
Test for gestational diabetes
28th week
Fetal developmental ultrasound: Assess whether the fetus is developing properly according to its gestational age.
Measurement of fetal blood flow and flow velocity in the umbilical artery using Doppler ultrasound to confirm the proper development of the fetus. In the case of pathology, more extensive Doppler measurements are performed on cerebral arteries and the uterine arteries to monitor the blood flow.
32nd week
Routine examination
Re-evaluation of the doppler measurement of the fetal flow velocity in the umbilical artery to confirm the good development of the fetus
Extensive discussion on the complete childbirth process and the option for epidural anaesthesia
34th week
Growth scan
Determine the fetus position – establish delivery method
36th week – childbirth
Weekly examination until delivery
Re-evaluate of the embryo position
Review of the expecting mother's blood pressure and urine albumin (a checkup at every prior visit)
In case of high-risk pregnancy, more frequent visits and additional examinations are required.
Special tests performed through pregnancy
Chorionic villus sampling is a prenatal invasive diagnostic test that involves taking tissue from the placenta using a needle under ultrasound guidance and testing it for abnormalities.
This is to determine any chromosomal or genetic disorders in the fetus, such as Down syndrome or other genetic disorders like thalassemia anaemia. It is conducted during the 12th week of pregnancy.
Amniocentesis is an invasive procedure used to diagnose chromosomal abnormalities or other fetal genetic defects in the early second trimester of pregnancy such as Down syndrome.
A sample of the amniotic fluid, which surrounds a fetus in the womb, is collected through the pregnant woman's abdomen using a needle under ultrasound guidance which is then sent to the laboratory for testing.
Amniocentesis is usually performed after the 16th week of pregnancy.
Amniocentesis is not performed on all pregnant women. It is only recommended if there is a significant chance that your baby has a genetic problem.
In addition to the routine important and specialised diagnostic ultrasound checkups conducted during the 12th and 20th week of pregnancy, further ultrasound assessments may be performed in case further investigation is required on the fetal development, the placenta assessment, amniotic fluid assessment, etc.
Reach Us
Hippocrateon Private Hospital
10 Psaron Str., 2408, Egkomi, Nicosia, Cyprus
Open Hours
Mon, Wed, Fri: 8:00 - 20:00
Tue: 8:00 - 17:00
Thu: 8:00 - 14:00